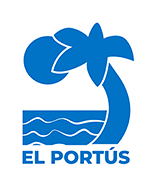 Weather
The climate enjoyed by our area is without doubt one of the major tourist attractions. Winter, Spring and Autumn are generally dry and sunny. In summer the high temperatures are moderated by the closeness of the sea. This means that whatever the time of year we have the climate of paradise, a climate which enable you to enjoy whatever activities you desire.
The average annual temperature is 17ºC
Hours of sunshine

Month
Hours
Month
Hours
January
February
March
April
May
June
172
182
194
250
297
330
July
August
September
October
November
December
364
325
237
212
182
172
The average in the months of June, July, August and September ranges from 25º to 30ºC. Winter is very mild with temperatures in the coldest months seldom going below 10ºC. There is very little rain - less than 300 l/m2 per annum. Each year we confidently expect 320 dry days and up to 3.000 hours of sunshine.
Sea bathing
Average Quarterly temperatures
Seasons
Max
Min
Average
Winter
Spring
Summer
Autumn
16ºC
20,8ºC
27,6ºC
23,3ºC
5,8ºC
10,2ºC
19ºC
14,2ºC
10,9ºC
15,1ºC
23,2ºC
18,5ºC
The temperature of the sea is very closely linked to the air temperature. The salinity varies 3.6% and 3.8%. Throughout the year the figures are their highest in September and October and their lowest from January to May.
National Institute of Meteorology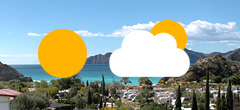 &nbsp Links of Interest
Camping Naturista El Portús - 30393-Cartagena (España) - Tel.: +34 968 55 30 52 - Fax: +34 968 55 30 53